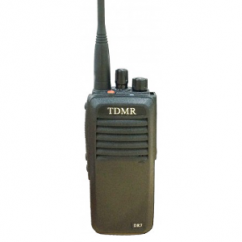 Available in UHF and VHF frequency bands, DR7 is a cost effective digital two way portable radio that is durable and reliable in any environment.
Crystal Clear Audio: No hissing, crackling or background noise.
Extended Talktime: Digital format enables up to 40 percent improvement in talk time when compared with analogue radios.
Durable & Reliable: A protective tough and rugged casing ensures reliability and performance in its daily field operations.
Analogue & Digital: Ability to operate in both analogue and digital modes.
Battery Latch Lock: Keeps the battery firmly and securely in place
Channels

32
Frequency

VHF (136-174 MHz)
UHF (400-470 MHz)
Power Output

5W/1W
Size (mm)

128(H) x 61(W) x38(D)
With Standard Li-ion battery
Weight

258g
Display

N.A.
Keypad

No
IP Standards

IP57
IS/ATEX Available?

No
Product Categories
Product Obsolete?

No