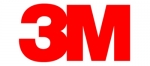 3M
3M is a global innovation company that produces thousands of imaginative products. Their safety products are well known to be of high quality and durability.
Over the years, their innovations have improved daily life for hundreds of millions of people all over the world. Every day at 3M, one idea always leads to the next, igniting momentum to make progress possible around the world.
3M's success begins with their ability to apply their technologies - often in combination - to an endless array of real-world customer needs.